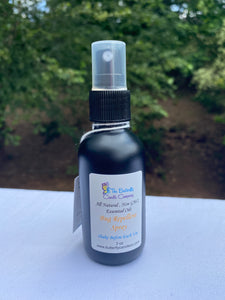 Our bug repellant spray is a combination of 5 bug repellant essential oils that are all B25 certified.  The spray not only repels those pesky bugs but also moisturizes the skin. Because these oils are all natural you should shake before each use to get the maximized effect.  
This spray currently comes in two different bottles:
2oz Black Matted bottle 
2oz White Frosted Bottle
If you have sensitive skin, these oils are gentle but we suggest spraying it on a small area first!
These oils are non-gmo